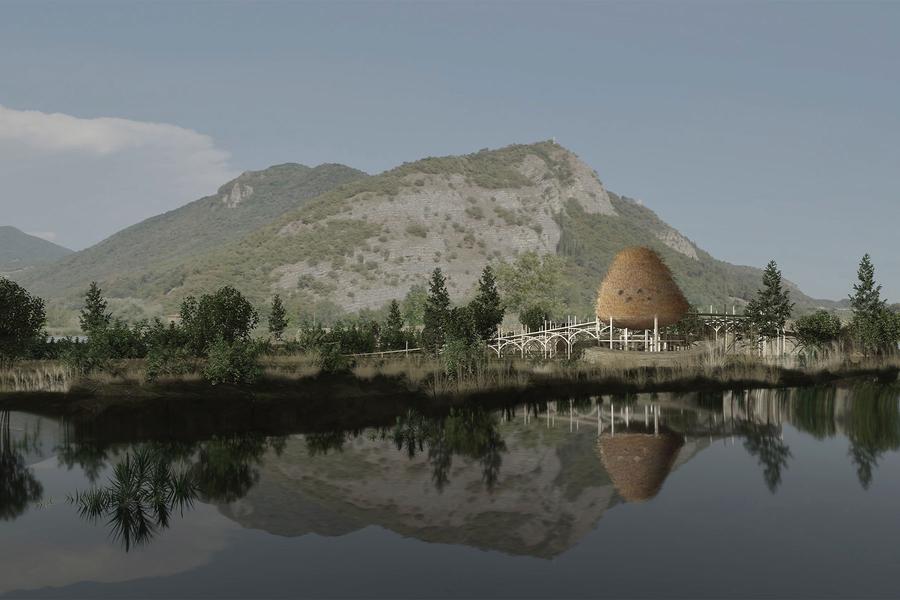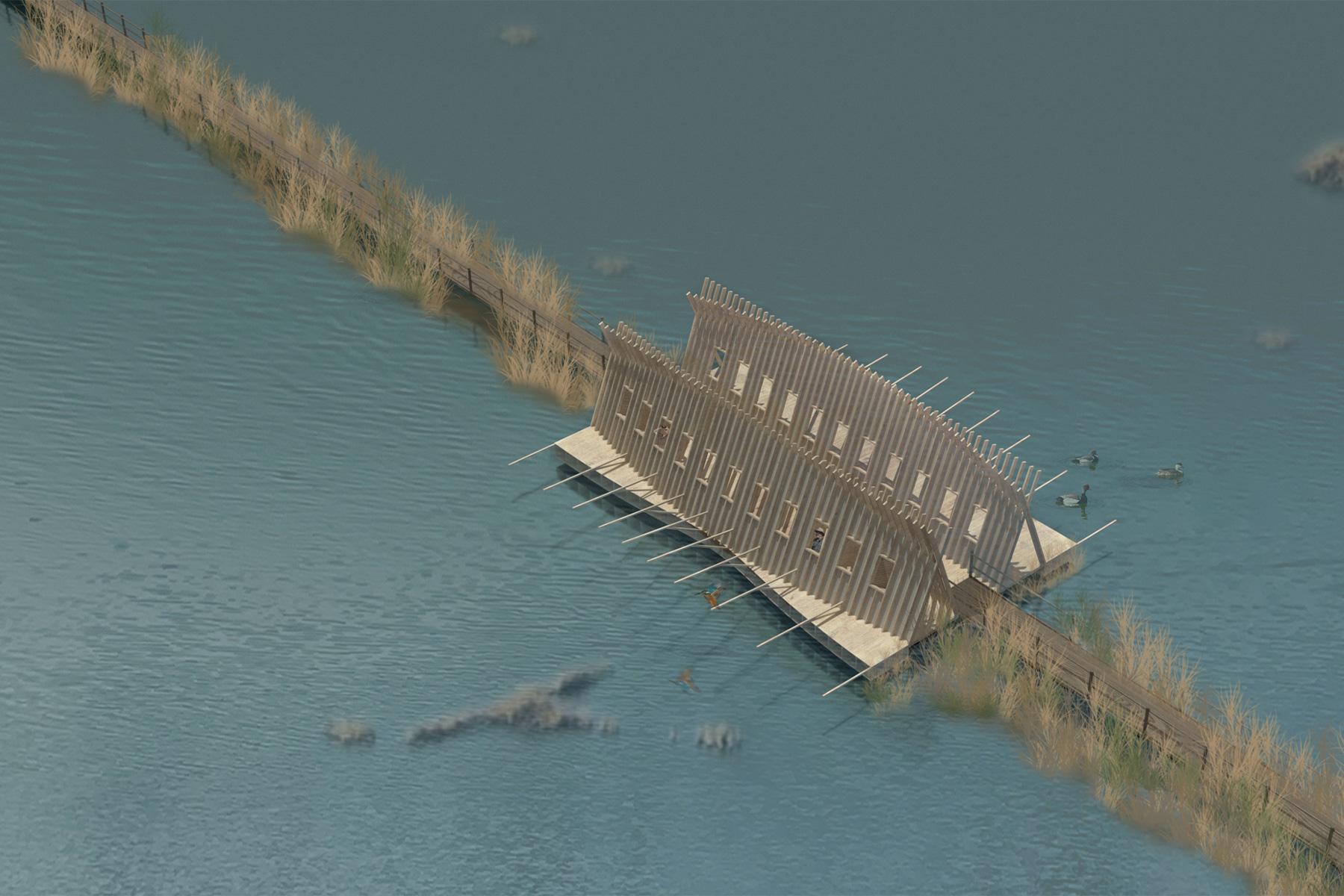 Team: Rebecca Lim and Sharon Lee
As a small team of two, within Foster Lomas, we designed three pavilions for the Tobiere del Sebino Nature Reserve. This design was shortlisted as one of fifteen finalists in the Wildlife Pavilions competition hosted by Terra Viva. 
The project:
Three pavilions are stitched into the landscape, enabling the ecosystem of wildlife in the Tobiere del Sebino to proliferate and thrive. 
For local creatures, the structures support diurnal activities. They become platforms for sunbathing, instruments for fishing, and nests for resting and reproducing. The shelters symbiotically provide delicate spaces for humans to observe the unique landscape. 
Peat bogs were formed in this landscape through a natural process of glaciation. Ice sheets were shed from the neighbouring Alps and fossil rich water pooled onto the land at the base of the mountain, resulting in a burst of biodiversity and the growth of Tobiere del Sebino. Unfortunately, the human population exploited these natural resources for fuel, extracting peat and destroying wildlife habitats. The site was eventually established as a nature reserve to protect local wildlife. The story of how the landscape was created, inspired our approach to create interventions made of materials from the natural site to further enact restoration of biodiversity to the landscape.
The designs are informed by the captivating subtleties of biological formations. Each pavilion responds to a unique species of fauna found at different sites within the reserve, focusing on the dragonfly, kingfisher, and nesting wildlife. Our pavilions frame this experience of transitioning through a variety of landscapes, each observing a different microecology of creatures and vegetation. Skeletal frameworks create intricate spaces to be shared between wildlife and people. 
Pavilion 1 : The Egg
The Egg is inspired by local bird species that nest by burying deep into soil walls. Insects and plants inhabit the framed ramp and soil egg structure. Heat is captured in the compacted earth and thatched enclosure creating a perfect environment for rest and reproduction. Visitors hidden inside the egg can observe wild creatures moving between nature.
Pavilion 2 : The Kingfisher
The Kingfisher pavilion reflects the movement of a Kingfisher's wings catching its prey. Learning from traditional fishing Trabucchi cabins of coastal Italy, poles extend from the pavilion to create advantageous fishing sites for waterbirds. Timber flaps allow humans to observe this natural hunting process. A south-facing sunbathing deck and alcoves for ducks to shelter sit at the base of the structure.
Pavilion 3 : The Dragonfly
With detailed wings and metallic body, the dragonfly creates subtle visions of light and motion. This pavilion quietly floats on a pontoon. Its body is cloaked with a framework of lightweight, hinged timber panels which flutter in the wind. Small openings are fixed to observe the wildlife. Pyramids of light are refracted and dispersed across the water, creating constant ripples of coloured reflection. The soil base creates a habitat for flora and fauna to grow and weave within.
This wildlife pavilions project reflects the ethos of our practice, which pursues an intimate interweaving of buildings into their landscapes. Our view of sustainable design goes against the grain of imported high-tech solutions. Instead, we find innovative answers to forms of inhabitation within the landscape itself, through investigating the depths of local, cultural and historical precedent. This harmonic dialogue between landscape, nature, architecture and human which centers our design approach, results in uniquely contextual artefacts for inhabitation, informed by a deep understanding of the environment.
The studio works on private projects sited within sensitive and ecologically rich environments. Past and present projects include a private house and public Visitor's Centre for the Sartfell Nature Reserve on the Isle of Man, Chypraze House, designed for a UNESCO world heritage site in Cornwall, and Ching House situated in a protected area of outstanding natural beauty in Epping Forest.
Each of these projects harvest site material, physically and theoretically. This material is poetically interpreted to inform the foundational concepts of design, where each project seeks to tell a unique story of its place. 
Our studio understands that architects have a responsibility to the environment. We collaborate with engineers, local artisans and environmental scientists, creating a cross-pollination of ideas, discovering untapped possibilities to adapt architecture to it's environment. We are inspired by natural phenomena and structures, and often adopt such prompts to imagine new forms of architecture which support a balanced ecology. Aware of the changing climate and it's impact on the environment surrounding the sites of our projects, we design with the future of the site in mind, even long after our architecture is gone by choosing natural materials which can return to the landscape. The wildlife pavilions was for us, one of many future outputs which experiment with an approach to environmental design, working with the landscape and designing for both humans and other forms of life which inhabit the site.