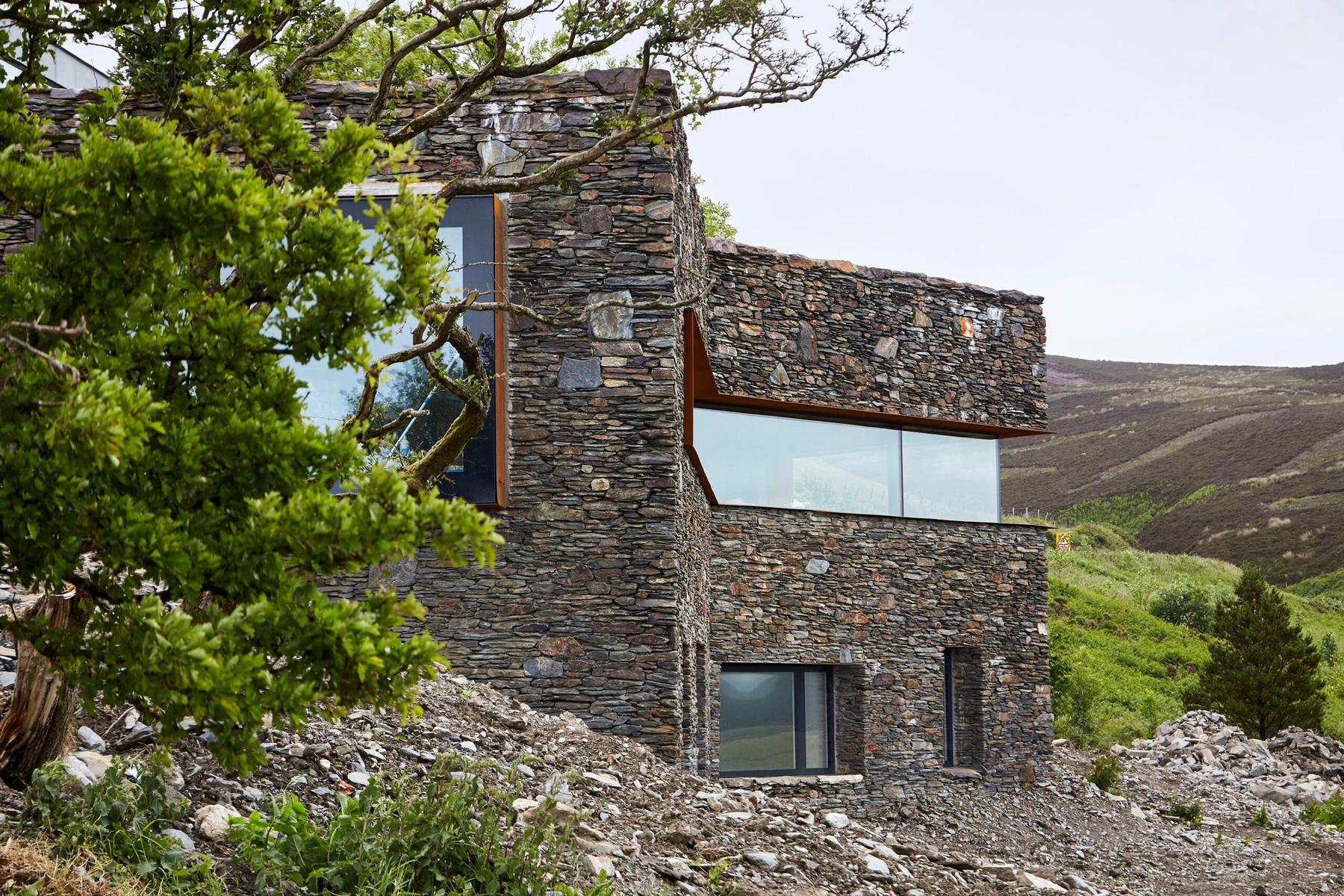 Restorative Rural Retreat for Sartfell
2023
A Restorative Retreat for Sartfell is located in the UNESCO World Biosphere Protected Landscape of the Isle of Man and combines a new 370sqm contemporary dwelling with the restoration of the landscape to establish a new nature reserve.
The retreat is the result of a unique collaboration with the clients - a retired scientist and a retired teacher, with a broad range of specialisms and interests in insect neurology, zoology and biological science, the local charity Manx Wildlife Trust and ourselves.
The clients' commitment to the project was borne out of their deep respect for the island's status as a UNESCO World Biosphere region. The project forms part of a masterplan whose vision will see the addition of a Visitors' Centre, also designed by us, serving as an important educational platform about biodiversity.
The design of the retreat is constructed using stone harvested from the site excavations, meticulously executed by local craftsmen and designed to allow local ecology to inhabit the voids, creating a synergy with the landscape.
A weather station was installed to gather data used to inform the orientation and form of the house including the locations of windows, a critical process due to the severity of the weather. We are experienced lighting architects so we studied the daylight and sunpaths in order to maximise natural light internally whilst carefully controlling sunlight to avoid overheating. The windows are set back and framed with Corten steel plate, preventing solar gain and reducing reflections.
On the upper ground level, the living floor, a ribbon window reminiscent of a scaled-up bird hide frames the expansive views across the landscape.
Running throughout the three levels, the 'Knowledge Centre' is at the heart of the scheme. It signifies the long-term vision that the clients have for the retreat and reserve and for future generations of scientists, educators and wildlife enthusiasts.
The poetic orientation of the staircase aligns the ascendance with views up the mountain and is topped with a clerestory which captures the shifting light of the island throwing shafts of luminescence into the core and animating the concrete interior.
The project is zero carbon energy use, powered by a ground source heat pump within a lake, wind turbine and heat recovery system and won an RIBA Award for it's sustainability credentials as well as winning RIBA regional and national awards.
Foster Lomas designed and delivered the project with Conisbee structural engineers.